With the knock of technology in every corner of the world, the work culture of the corporate world has also changed a lot. The concept of showcasing the work, services and the brand has made its own place in corporate world. Every professional organization is following the process of arranging corporate presentations at different levels. Some presentations are in-house that is meant to be presented to the organization members itself where as few of the corporate presentations works as a connectivity source between the two different organizations.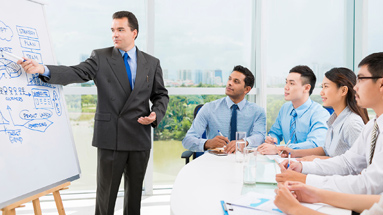 Henceforth, we can easily summarize the worth of a corporate presentation in building an organization's reputation and success chain. Constructing a good corporate presentation is a must to make the viewers understand your point and purpose. With the highly occupied schedules of people, sometimes it becomes the need of the hour, to look for a professional help, to build an impactful and relevant corporate presentation.
To take you out of the crisis of the time, there are many professional organizations that offers a precise formulation of corporate presentations by following the standard rules. Digitap is one of the leading organizations that offer you excellent services of providing you a good and relevant corporate presentation that fits exactly to your needs. We are a group of skilled professionals who work 24*7 on their toes to deliver consistency and proficiency in their work. We are happy to work under pressure in case of any urgency and are reliable with our on-time prompt deliveries.
The honesty in our efforts could be easily reflected in every slide of the presentation, we work for. Our crisp, high impact and dynamic presentations captivate interest and vividly portray key benefits and differentiators to inspire the targeted audience to take action. Common projects include business presentations for marketing, sales, PR, IR, tradeshows, road shows, convention lectures, multimedia business cards CD-ROMS, the Web, and interactive demos.
We believe in offering results. To know more about us, feel free to get in touch with us.